Vipet®  PETG Plastic Sheets are a versatile co-polyester used for a wide range of applications that require exceptional clarity and mechanical properties.
Vipet® PETG offers designers a high degree of freedom for realizing intricate transparent shapes and fast becoming an environmentally viable alternative to clear PVC.
Vipet®
Vipet® PETG sheet is an ideal product for vacuum formed process for point of sale parts due to not having to pre-dry the material. Vipet® PETG has the ability to reposition and reform, and the ability to down gauge some individual parts to due to a higher impact strength than that of PMMA.
| | |
| --- | --- |
| Key Features | Product Applications |
| • Excellent thermoforming characteristics | • Merchandising/Point of Sale Displays |
| • High impact strength | • Vending machines |
| • Easily die cut and punched | • Product Dispensers |
| • Cost effective | • Medical Packaging |
| • Printable | • Food Storage/Displays |
| • High Optical Quality | • Industrial Guards and Covers
Slat-Wall Components |
|   |   |
| Stocked Sheet Sizes |   |
| * more sizes may be available |   |
|    please contact your nearest branch |   |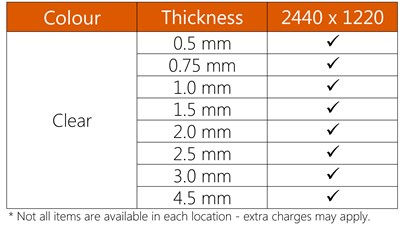 Colours